I pulled into the parking lot of my 25 year old son's home near Santa Cruz, California, where he was waiting impatiently.
Matthew has autism and lives at Camphill California, a community for individuals with intellectual disabilities. I was picking him for his routine first-weekend -of –the-month visit home an hour north near San Francisco.
When Matthew climbed into the car for our drive home, he launched into his usual tedious discussion about the origins of the song "Pretty Woman".
"Who did Roy Orbison write it about? Why did Van Halen also sing the song? Was Eddie Van Halen singing it about Valerie Bertinelli? Did Roy Orbison ever get to meet David Lee Roth? Was David Lee Roth sad when Roy Orbison died?
It is a draining conversation to maintain, but one I know I am so lucky have. So many of my friends have children who are non-verbal; they would give anything to have the kind of interaction I have with Matthew.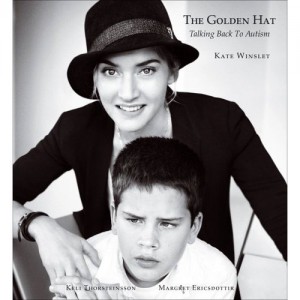 I was reminded of this when I learned about a new documentary, narrated by Kate Winslet "A Mother's Courage: Talking Back to Autism," about a young nonverbal Icelandic boy named Keli. Kate was moved by the efforts of Keli's mom, Margret Ericsdottir, to find a way for her son to learn to communicate. "I simply couldn't conceive of how devastating it would be,"Kate said, "not to be able to hear my children's voices."
Kate and Margret bonded through the production of the documentary, and brainstormed ways to help children like Keli and The Golden Hat Foundation was born.
I learned about the Golden Hat Foundation when I was invited to take part in a luncheon with other (amazing) autism advocates and bloggers at the offices of Ladies Home Journal. (I joined by phone, along with esteemed West Coast advocates Shannon des Roches Rosa,Jennifer Byde Myers and Chantal Kira Sicile.) Kate Winslet is on the cover of this months Ladies Home Journal, which was just redesigned and looks fantastic inside and out.
The Golden Hat Foundation is a non-profit organization dedicated to eliminating barriers for people with autism around the world, and creating an environment that holds these individuals as intellectually capable.
The mission of the Golden Hat Foundation is the establishment of innovative campuses that offer people with autism the opportunity to learn to communicate effectively, receive an education, job training and enjoy recreational activities, all within a supportive social network
Kate Winslet has given the Golden Hat Foundation an inspiring head start with , "The Golden Hat: Talking Back to Autism," a book that weaves together the story of Margret and Keli, their friendship with Kate and photographs of well known celebrities self portraits wearing Kate's hat.
"Put the hat on your head and think about how much we takes communication for granted," she told them. "How would you communicate who you are in a quote? What would the words be? Express something that's important to you."
One of my favorite quote came from Justin Timberlake–"In life, try on as many hats as you can. You might actually find one that fits."
The list of 100 photographs also includes Meryl Streep, Leonardo DiCaprio, ElijahWood, Tom Hanks, and Conan O'Brien. All proceeds from this book will benefit the Golden Hat Foundation.
If you'd like to support the Golden Hat Foundation, click here. I think it is a *really* good idea that parents support initiatives like this as early as possible. The future is not as far away as you think!
You can pre-order the book here.
WHAT WOULD YOUR QUOTE BE?
I want to know.
Mine would be " I am grateful to be a mother."