15 strategies to motivate teens/adults with autism to exercise
At Matthew's IPP Meeting last year, (Individual Program Plan–more about what that is HERE) we got on the topic of recreation. What does Matthew like to do in his spare time? What does his social life look like? What goals should we set for the future? "I would love it if you could get more exercise, Matthew" I said, glancing at the belly that my handsome 27 year old son has developed in the last few years, "Not just from doing garden work, but from running and swimming and lifting weights. That would be good for your heart and make you feel strong. What do you think?"
"No thank you," he replied. "Can we get pizza for lunch?"
Matthew was very active when he was a child with swimming, gymnastics, biking and running (not actually running-bolting, and I would run after him.) He was on Challenger and Special Olympics teams, too, but not consistently (behavior issues-you understand.)
The work that he did was strenuous, but I knew that his body and brain would benefit if he added a cardio routine into his day.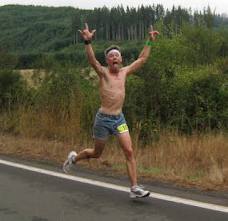 Adding an exercise program, or any new program, can be tricky. You've got to be creative. I asked parents on my Facebook autism forum how did they motivated their ASD teens and adults to exercise. Here is what they had to say:
Encouragement and leading by example. I also kick started my 15 year old by hiring a personal trainer, helped tremendously.
Involvement in Special Olympics has my 22 year son highly motivated for exercise.
Since we homeschool, it's part of his program. We hike in the mountains as a family to keep the team strong.
We started our 19 year old with a Schwinn exercise bike, 1 minute to begin with, and increased it by a minute a week several years ago. We now have a Schwinn bike, a recumbant bike, an elliptical, and a treadmill and he works out for 50 min a day, 5 days a week. (editors note. I know, we can't all afford a home gym…)
We use icanshine.org . They teach kids with special needs to exercise and make it fun.
I signed my son up for a gym membership. We go together 4 times a week. Not many things he wants to do with his mom but we are having fun working out and losing weight.
I get all of my kids to dance to music they love.
My 20 year old goes to a dance center where typically developing people his age go as well. He loves it and it is a great way for him to practice social skills.
We do a lot of swimming, yoga, hiking, and rock climbing as a family. There is no sitting back watching my son play. Group activities are too overwhelming so the best motivator is to lead by example, get the whole family moving, and just have fun.
Swimming. Period.
Try making it a contest or a game. If they think they are helping you learn they enjoy it much more.
Since we got a 14 ft trampoline a month ago, our son has lost 3 lbs.
Wii Fit and Just Dance. (editors note. I love Just Dance.)
Running and lifting weights has been a huge stress reliever and has helped with "stimming". My son is motivated by looking cool and handsome.
My son loves running around with his metal detector. He finds all sorts of things to collect. So it exercises mind and body.
At this years IPP, Matthew announced that he'd like to join a gym. YAY! But will he actually go to the gym? To be continued…
Read more ideas HERE
Do you have strategies for building good heart-pumping exercise into your teen/adult's life?
****
Have you read my book yet? I think you will really like it. Order it here.