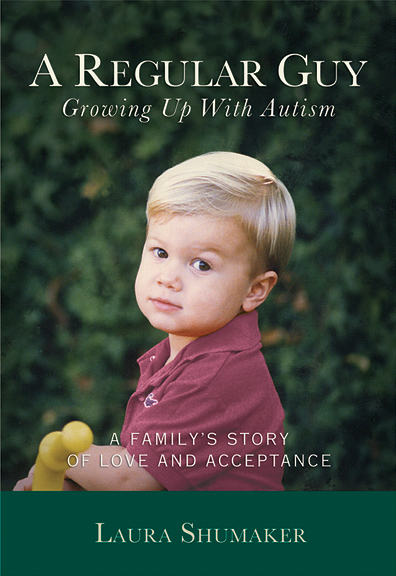 or your favorite local bookstore.
Nervous Laughter
When I was eight years old, Uncle Russell came to visit. He was my mother's cousin, but everyone called him Uncle Russell. He was twenty years old and had a severe case of cerebral palsy.
Russell was pigeon-toed as I had never seen before, causing his knees to face each other. He walked in a spastic, bouncing stumble. His hands were gnarled and bent at the wrist, fingers curled, in a way that my brother and I found impossible to imitate. His long neck was thick with muscles pulsating from the strain of holding his large, constantly moving head.
Despite his challenges, Russell always had a huge, improbable smile on his face. My brother Scott and I tried in vain not to laugh at him. Even my compassionate mother sometimes had to excuse herself to giggle in the kitchen with us.
"Laura, we'd better not laugh," she said before going back to face poor Russell again. "God may give you one like Russell someday."
Mom wasn't superstitious, and I knew her warning was only meant to sober us enough to get our giggles under control.
Russell wore pointy red Keds and a baggy old cardigan sweater. His dark hair was greasy, and he smelled bad. I remember thinking that it would sure help if his parents dressed him nicely and cleaned him up a little. Looking back, I realize that his parents did the best they could-the shoes were probably the only ones that fit his feet; cardigans are easier to get on a spastic child than pullovers; and bathing a young man with cerebral palsy is a grueling job for aging parents beaten down by endless caretaking.
Through the years, there were others I couldn't help but laugh at, like the twin brothers at a Christian summer camp when I was fourteen. One was normal and the other weird. The odd boy flapped his hands when he was happy; he'd rock back and forth and sing songs. My friend Ginny and I didn't want to laugh at him, but we found it easier simply to avoid crossing his path so we wouldn't blow it. One time his brother caught my self-conscious giggle and glared at me, deeply hurt. I'll never forget it.
When I was in my twenties and living in San Francisco, I was introduced to a nice-looking guy at a Christmas party. As he stood up to shake my hand, I noticed there was something funny about his legs. He seemed like a great catch-educated, funny, well-dressed except for the bow tie. We sat down again and talked for a while. Eventually, he got my phone number. My excitement turned to dread when he got up to get us a drink. He walked like Uncle Russell. I stifled a nervous, embarrassed laugh and pretended to be laughing at a funny joke I had just heard when he got back with our drinks. Somehow I held it together for the rest of the evening.
He did call me for a date and I accepted. Before he arrived, I told myself that here was a terrific guy with a great attitude who had accomplished much despite his disability, and I should rise above my silliness, be a good person, have a great time. But when I opened the door to greet him and saw him bouncing up the stairs toward my apartment, bouquet of flowers shaking violently, I knew this would be our last date.
I called my mother the next day to share my date story. She didn't laugh.
"I hope you were kind to him," she said quietly. "It must be so hard for him. I'll bet his mother worries."
There was an awkward silence between us, and I felt like a superficial, spoiled brat. What could I say to redeem myself?
"If I had a baby with a problem, it would be hard, but I'd do fine. But I have a feeling my kids are going to be healthy," I said.
"So do I," said Mom. "So do I."
A Trip to the Hardware Store
"Mom! I have something very important to tell you," my eighteen-year-old son told me urgently. "We need to go to the hardware store."
I took a deep breath. Another adventure with my autistic son was about to begin.
When we got to the store, Matthew rushed in and disappeared behind the shovels and the toilet seats. I followed, warily. He reappeared with the orange extension cord he'd had in mind.
"Mom, give me the money and let me buy this-like I'm a regular man." His forehead was screwed up with intensity.
I handed him a twenty and told him to meet me outside.
I stood behind Matthew in line, clutching a bottle of Elmer's glue I had grabbed. He wanted me to look like a regular woman, anonymous to him, shopping at Ace Hardware. I watched as Matthew put the extension cord on the counter and handed the saleslady the twenty-dollar bill.
She was Flo, an old-timer with a bouffant hairdo and painted-on eyebrows. I saw the two of them having a little conversation, and I could tell by the confused look on Flo's face that she might need my help. But I held back anxiously to respect Matthew's wishes.
After what seemed like an eternity, Matthew paid for the extension cord and stepped outside to wait for me as I marched up to Flo, placing the glue on the counter.
"See that guy?" she whispered. I glanced out the door and saw Matthew standing there with a self-satisfied look on his face. "He's got mental problems!"
"What did he say?" I asked with a heavy heart.
"He walks up here with his extension cord, and he says, "˜Are rhododendrons poisonous to goats?' And I says, "˜I don't know.' Then he just starts laughing and walks out with his extension cord!"
"He's my son," I confessed. "I should have explained when I came in. He's has autism."
"Autism? You mean like the Rain Man?" she asked, looking mortified.
"Well, sort of," I replied. Best not to go into a big explanation right now. "He wanted me to let him buy something at the store like he was a regular guy."
"I feel terrible!" Flo said. "But he must know he's different." Realizing that Matthew's hopes, dreams, and lack of self-awareness would be too hard to explain, I shrugged and took my glue.
Flo had no idea how many times I had said to Matthew, "If you want to be treated like a regular guy, you've got to act like a regular guy!" or "Regular guys don't talk about poisonous plants all the time!" Unfortunately, social awkwardness is wired into Matthew's brain, and no amount of instruction or reasoning was going to change that.
I glanced at Matthew as we drove home, and I could tell by the strange smile on his face that he had moved on from his "regular man" frame of mind to the absurd.
"What would happen if Dad ate an oleander?" he asked, grinning crazily, and the lump that had been in my throat on and off since his birth returned.
I didn't need to check my dog-eared copy of What to Expect When You're Expecting to know that I was in labor. I had spent the day window-shopping in San Mateo, an upscale community twenty miles south of San Francisco where I lived with my husband Peter. I was proud of my Princess Diana-inspired maternity wardrobe, and on this day I was wearing the red-floral Laura Ashley dress with the ruffled shawl collar that tied in front, sailor-style.
It was 5 p.m., and I was in the bookstore two blocks from home when the first contraction gripped me. Right away, I could tell that my evenings in Lamaze class at our local hospital had been nothing but a social hour.
"Any day now!" sang the manager, patting my belly as I hurried from the store.
I made it home in a minute or two, smiling all the way, and called Peter. We were both so excited to become parents.
"They say with the first it takes awhile," Peter said, but he could tell from the sound of my voice that I would be an exception. By the time he walked in the door at 6:30, the contractions were three minutes apart. We made it to the hospital at 7:15, and Matthew was born just after midnight, at 12:35. It was May 22, 1986, the happiest day of my life.
I can't remember a time when I didn't know that I wanted to be a mother. I grew up in a loving family with parents who treasured each other. In the beginning, I was the middle child, brother Scott two and a half years older, brother David a year younger. Every evening at five o'clock, the three of us sat on the brick steps of our brown-shingle home in Piedmont, across the bay from San Francisco, waiting for the 42 bus that brought our dad home from his work as a stockbroker in Oakland.
Dad greeted us with a laugh and a hug. Sometimes he'd surprise us with treasures from Chinatown, a few blocks from his office at Dean Witter, where he strolled at lunch: wooden snakes, mystery boxes, fortune cookies. My brothers and I waited in the living room while Mom and Dad had a drink in the kitchen, discussing the events of their day, and we were soothed by the sounds of them laughing and talking. After they had caught up, we were invited in for dinner at the kitchen table. My favorite time of the day followed the evening meal, when I snuggled on the sofa with my mother and we talked or read. Even when I was very small, my mother and I shared private jokes that cemented our bond, and I loved the feeling of our bodies shaking with laughter as we cuddled.
When I was five, my brother David drowned. He was just four years old. I remember standing helplessly on the dock of Clear Lake with my mother and brother Scott while my dad struggled to revive him.
The year that followed his death was quiet and strange. My mother was remote; my father's smile disappeared. Scott and I didn't understand the permanence of David's absence, and we escaped to a world of our own, fantasizing about how David would reappear. One evening, six months after his death, my brother and I found our father crying in our living room, looking at a photograph of beautiful blond David with his clear blue eyes sparkling mischievously.
"Don't worry, Dad," I said, patting his arm. "He'll be back."
"No, Laura. He won't."
And we all wept together. It was the saddest day of my short life, but the day when the healing began for my parents.
Four years later, my father carried my baby sister up the brick steps of our home and put her in an infant seat on the kitchen table, where we all gazed at her sleeping. Carrie was three days old when we adopted her-and once again, we were a family of five. She did not replace David, but she completed our family.
For a nine-year-old girl, there is no more precious gift than a baby, and I relished her completely. After school and on weekends, I spent every moment with her, carrying her around, dressing her, singing to her. When family and friends came to visit the new baby, they had to pry her out of my arms, and they were quick to hand her back while I stood anxiously nearby. "You will be a great mother someday!" Mom told me.
I think I scared away a couple of good prospects when I was in my twenties, with the "Wants to Be a Mother!" stamp on my forehead. Mom told me gently to tone it down a bit, but she admitted that any guy who was afraid of me wasn't the right one anyway.
I spotted Peter at the health club in San Francisco where we were both members. He was dating a friend of mine from college. Peter doesn't remember being introduced to me by his then-girlfriend, but I remember our conversation when he walked away.
"He is so cute! Where did you meet him?" I asked my friend.
Cute was not the proper way to describe Peter. He was handsome, resembling a young Cary Grant with brown hair sweeping across his forehead, a patch of gray in the front. What made him cute was that he didn't know how handsome he was. When I met him he was dressed in jeans and a red crewneck sweater.
"Isn't he so East Coast?" my friend gushed. She was hooked. I wondered if he was as well.
When I heard that they had broken up, I found a way to strike up a conversation with him. I noticed an advertisement that he had posted at the gym. His roommate was getting married and he was looking for a new one. I called him and claimed to have a cousin who was moving to the area who might be interested. Our phone conversation turned flirtatious and concluded with a lunch date set for the following day.
Six months into our whirlwind romance, Peter admitted to me that the "Wants to Be a Mother!" sign had scared him at first but ended up being the thing he loved most about me. Peter was one of four kids and had grown up in a devoted family like mine. Nearly all of his family still lived in Connecticut, where he was raised. The old girlfriend was right-he was so East Coast.
Peter and I were married only eight months after we met, but nobody was surprised-the love and admiration we shared for one another was obvious.
When we were first married, we lived together in an apartment in the Pacific Heights neighborhood of San Francisco. During the week, we worked, met friends for drinks, and had dinner together, happily making plans for our future. The weekends were spent studying Gourmet magazine and having dinner parties with friends.
Shall we use the clay pot tonight or the wok?
Where did you put the eight-inch springform pan?
It's next to the pasta machine in the pantry.
We had season tickets to the ballet; we entered bike and running races. Living in San Francisco was seductive and gave us a false sense of superiority. Looking back, I'm grateful for our self-indulgence. It was a gift to be naive and optimistic. Life would draw us back soon enough.
A baby after two years of marriage was our plan. Matthew beat us by three months.
He was beautiful. We were parents at last.
I was a mother.